Press Release: Why did Roger Hazard leave "Sell This House"?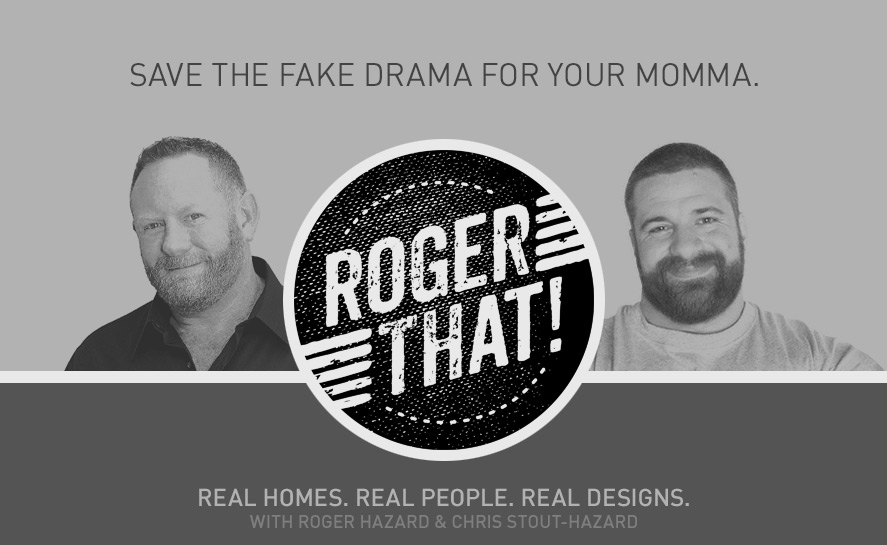 See Roger Hazard in his new show, Roger That! You can watch the pilot for free online at www.rogerthat.tv. The show follows Roger Hazard and Chris Stout-Hazard as they make over homes in need of a boost of style.
FOR IMMEDIATE RELEASE
Designer Roger Hazard Leaves TV To Launch Made-In-U.S.A. Furniture Company
AUSTIN, Texas (July 30, 2012) —
Celebrity designer and stager Roger Hazard, known for his television shows 'Sell This House,' 'Sell This House: Extreme,' and 'Move This House' — all aired on A&E — has launched Decades, an online furniture and accessories company that creates built-to-order designer pieces at a surprisingly affordable price point.
"After filming a few hundred episodes around the country, transforming houses of all shapes and sizes on a tight budget, I've proven that a stylish home is very attainable," said Roger Hazard. "But our goal with Decades is more than just style. We want to provide furniture that is built to last for years."
Hazard had grown frustrated attempting to find furniture and accessories for his private design clients. "It was always a challenge to locate unique pieces in the right size or color," said Roger. "Custom designer furniture was often an order of magnitude more expensive than retail, putting it out of reach for most homeowners."
Hazard, along with his design partner and husband Chris Hazard, saw an opportunity to bring custom furniture to a broader audience by partnering with small manufacturers around the country, selling direct, and doing much of the work themselves. "Decades has so much potential that I decided to step away from TV for a bit to devote all my time to it. Chris and I have poured ourselves this project, and it's very exciting to see it start to gain traction," said Roger.
"We have a handful of partners with whom we're building strong relationships," said Chris. "For instance, our upholstery partner brings excellent customer service and craftspeople who have been building furniture for two and three generations." In addition to partnering with small, nimble manufacturers, the Hazards opted to sell directly to consumers via the Internet. To stay lean and keep costs down for their customers, Roger and Chris did all of the web programming, design, and writing themselves — and they're providing the customer support.
"Typically, I would charge a few thousand dollars for a design consultation. But we're opening that service up to our furniture customers for free," said Roger. Decades' "Ask The Hazards" program has already proven popular, giving prospective buyers an opportunity to consult with the designers on furniture styles and details. "We're happy to help our customers with design decisions. We can assist in identifying the best style for their home, picking upholstery options that work well with their lifestyle, choosing colors for the pieces, and even suggesting tweaks to the surrounding room's paint, accessories, and furniture."
Next for Decades is the introduction of giclée art prints produced in Austin, Texas, to be followed by a line of hand-printed wallpaper crafted in Sharon Springs, New York, and hardwood case goods — such as storage cabinets and tables — produced in Wichita, Kansas.
Roger's fans and clients have responded enthusiastically to the company's commitment to American-made products. "It's very important to us to manufacture our products in the U.S.A. We want to do our part to support our country's economy, but there are a few tactical advantages as well," said Roger. "Domestic manufacturing means our furniture can be bench-made on demand for each order, we can have tighter controls over the materials and chemicals that go into our product, and we don't have to waste time and fossil fuels shipping the finished product from overseas to our customers' homes."
Decades is a purveyor of timeless, quality furniture, accessories, and artwork. Its products are customizable, built to order, and made with love in the U.S.A. Decades is a creation of Roger and Chris Hazard. To find out more, please visit www.lovedecades.com.
Contact:
Chris Hazard, Founder
chris@decadesfurniture.com
1-855-4-DECADES
# # #